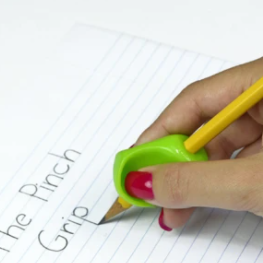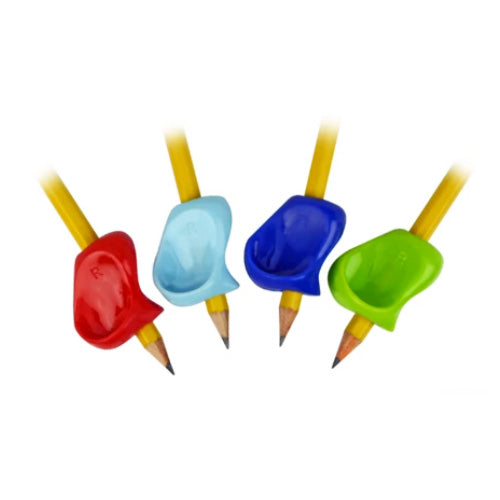 Stepping stone in grip development 

    

    

    

    

    

    

   

Gentle guide for proper positioning 

    

    

    

    

    

   

Improves comfort and control

Designed for Adults & Children, Righties & Lefties    
As a transitional grip, The Pinch Grip bridges the gap between more structured grips and grips that provide more freedom. This intermediate step in the learning process can better aid the development of proper writing technique while improving handwriting, giving more control, and reducing hand fatigue. Its unique, patented design gently encourages the fingers and hand to rest in the proper position for gripping - The Tripod Grip. Unlike other pencil grips, The Pinch Grip feels natural because of its ergonomic design and soft, flexible, latex-free material. 
The Pinch Grip Step 2 on the path of perfect handwriting
The Pinch Grip embodies the perfect blend between The Pencil Grip and The Crossover Grip. The open cups of the grip guide without restriction. The elongated center ridge functions as a barrier so the fingers do not crossover to the other side of the grip. The Pinch Grip naturally reinforces proper positioning while also allowing for freedom and comfort.
Helps Kids Handwriting
The original design of this grip comes directly from The Pencil Grip. The same ergonomic design guides each finger to the correct spot to achieve the perfect tripod grip. This doctor-recommended grip significantly reduces the amount of fatigue felt from prolonged writing. In fact, this grip directly emulates the original style that is still one of the best Grip recommended by Occupational Therapists to help people improve their writing skills. The Pinch Grip is designed to train the muscle memory of the fingers so that a proper grip is not only comfortable, but second nature.
Helping Adult Hands

The Pencil Grip is widely used by the millions of Americans diagnosed with hand health issues like Arthritis, Carpal Tunnel Syndrome, Tremors, and a general lack of strength. The Arthritis Foundation recognises  The Pencil Grip for 'helping to improve the quality of life of the millions of Americans with arthritis. ' The Pencil Grip received this commendation because of how easy and comfortable the grip is to hold.